The gentleman in a gig, south of Oatlands
A new England!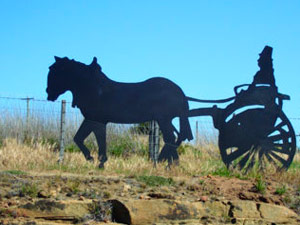 Who am I? If this was 1821 I could be doctor William Redfern, who accompanied Governor Lachlan Macquarie on his final tour of Van Diemen's Land when he decided the location of many of the towns along this Highway. Ten years later and I might be landowner and Police Magistrate Thomas Anstey going to decide the fate of accused wrongdoers at the beautiful new courthouse in Oatlands. If it was 1852 then I could be Anstey's son, Henry, heading to Oatlands' newly built Catholic Church, having made a substantial donation to its construction fund. It was designed by Pugin, the famous architect of the interior of the Houses of Parliament in London.
The Governor's Doctor: When Governor Lachlan Macquarie made his tour of duty of Van Diemen's Land in 1821 he brought his wife and their family doctor. The couple travelled the length of the island in their carriage while former-convict Dr William Redfern accompanied them in a gig. Life as a colonial doctor was varied and often demanding, inevitably involving travel. This trip occurred at a turning point in the colony's history.
Commissioner John Thomas Bigge had come from Britain on an inspection tour of the colony, arriving in Sydney in 1819. Concerned to ensure the convicts of Van Diemen's Land did not fare as well as they were in New South Wales, he recommended the introduction of a land grant system which would encourage the 'right' class of people to come to the colony and rewarded those already within it. This class could then take up positions of authority. Given the lack of an inherited aristocracy, an upper class in Van Diemen's Land was to be an almost instant creation.
Professional and middle class immigrants were given land and convict labour in proportion to their wealth. In a very short period, ending in 1831, most of the remaining productive land on the island was divided into grants and the grand houses that are scattered across the island were built. The landowners often became officials and magistrates, giving them ultimate control over the lives of both free settlers and convicts.
The Police Magistrate: Thomas Anstey was eligible for a land grant. He chose land near Oatlands and within a very short time was given the role of Police Magistrate. This was an extremely powerful position. He could decide the fate of those, both convict and free. It was Anstey who recommended, and then oversaw the work of, the 'roving parties' which sought to remove Aboriginal people from the 'settled' districts. Anstey also presided over those who came before the court accused of anything from violence and stealing to drunkenness and insolence. Landowners were keen to retain those convicts with useful skills such as blacksmiths, bricklayers, and carpenters. However if these convict workers were unhappy with their masters they could work the system so they might be transferred. Skilled workers could more or less hold the landowners to ransom. Landowners were beholden to the magistrate too, as one of the punishments available to him was to remove assigned servants from a particular master. Anstey determined to whom were assigned the best convict workers.
Off to Church: In the 1800s, the vast majority the immigrant population went to church. Churches of most major Christian denominations had been built in Oatlands by the middle of the century. Perhaps the most famous today is St Paul's Catholic Church. This church and St Patrick's in Colebrook were designed by Augustus Pugin, the designer of the Gothic interior of the Westminster House of Parliament in London. Pugin did not come to Tasmania, instead his friend Bishop Willson brought with him fine detailed models of the designs when he came from England to take up his position as the island colony's first Catholic Bishop in 1844.
The shared vision of Bishop Willson and of Augustus Pugin was to make the new diocese of Van Diemen's Land a Gothic Jerusalem through architecture, decoration and furnishing, which would reflect the grandeur of medieval religious faith, devotion and liturgy.
Layer 3
William Redfern
William Redfern, personal doctor to Governor Lachlan Macquarie and his family, was probably born in Canada around 1774. He trained as a surgeon in England before plying his trade at sea working as a surgeon's mate in the navy.
While at sea, Redfern had the misfortune of being caught up in a mutiny. This saw him hauled before a court martial and sentenced to death. Fortunately, Redfern had youth on his side and his sentence was commuted to transportation. He was sent to sea again, this time as a convict on board the Sydney-bound vessel Minorca. He arrived in New South Wales on 14 December 1801.
As a trained surgeon, Redfern's skills were in demand in the fledgling colony. He was soon working as an assistant surgeon at Norfolk Island. Remarkably, only a year and a half after arriving in the penal colony, Redfern had earned himself a free pardon.
By 1808, Redfern was back in Sydney where he was kept busy as an assistant surgeon. He later took charge of the new hospital when it opened its doors to patients in 1816 and also ran an outpatients' clinic for convicts. A popular and successful doctor, Redfern ran the largest private practice in the colony. He was the personal physician to the leading families in New South Wales, including the Macarthurs and the Macquaries.
By the time Redfern accompanied the Macquaries on their 1821 visit to Van Diemen's Land, he had resigned from his post at the public hospital. He served as a magistrate for a brief period, before being relieved of his duties because of prejudices common at the time about former convicts, or emancipists, taking on such roles in colonial society.
Nevertheless, William Redfern continued to make a significant contribution to Sydney society. Among other things, he was one of the first directors of the Bank of New South Wales and was also active in the Benevolent Society. The present day Sydney suburb of Redfern is named after the surgeon who, with his wife, enjoyed an estate of 100 acres (40 hectares) in the area that has since become part of the inner city.