Heritage Projects & Sites
Besides Council's essential statutory role in heritage management, as a planning authority, Council has a commitment to the following non-statutory heritage projects under the direction of the Manager Heritage Projects.
The support of heritage projects is outside the core mandate of Council's responsibility as a planning authority, yet is recognised by Council as one of the key strategies in developing and promoting the unique cultural heritage of the region in order to reap the flow on benefits in terms of community sense of place, education and tourism opportunities. Whilst striving to demonstrate best-practice heritage management, Council acknowledge these flow on benefits as an essential part of the rationale for heritage projects, and acknowledge the immeasurable benefits that arise from such.
The following figure demonstrates that heritage projects are essentially driven by Council's recognition of the benefits to the community's sense of place, education and tourism opportunities, and how collaboration and crossover with initiatives in these other streams are essential for the success of heritage projects;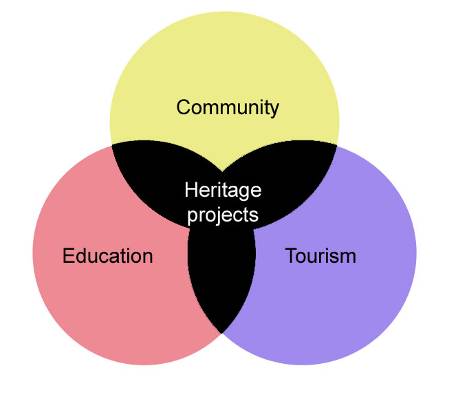 Brad Williams is Council's Manager Heritage Projects who undertakes planning, promotion and implementation of Heritage Projects within the Southern Midlands area. The focus being on conservation and promotion of Council owned heritage assets and the historic cultural heritage of the Southern Midlands municipal region.
For further information on Council's Heritage Projects, please contact
Brad Williams - Manager Heritage Projects contact
Click Here to to view or download the Heritage Program Annual Reports
Click Here to to view or download the Southern Midlands Historic Heritage Strategy Reports