Community Notice Board
Posted Friday, 16 February 2018, 7.00pm
Please note that effective from 1st MARCH 2018, the Opening Hours for the Waste Transfer Stations will change.
Posted Friday, 16 February 2018, 6.15pm
The Minister for Health, Hon Michael Ferguson MP, has announced that a re-elected majority Hodgman Liberal Government will provide an amount of $2.5 million for a major upgrade of the Midlands Multi-Purpose Health Centre at Oatlands.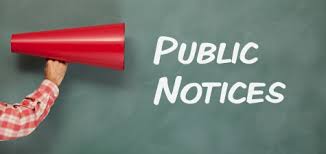 Posted Friday, 2 February 2018, 8.30am
Public Notices as advertised in the Mercury on Saturday 3rd February 2018.
Posted Thursday, 18 January 2018, 12.00pm
COMBINE JAPANESE MASTER SOBA NOODLE CHEFS, A LARGE DOLLOP OF CULTURE AND AN ICONIC WINDMILL
Join master soba noodle chefs from Japan coming to Callington Mill, Oatlands for a demonstration of every step of the process of soba noodle making using Tasmanian buckwheat which has been ground at Callington Mill.
Australia Day Award Recipients and Presentation Ceremony
Posted Tuesday, 16 January 2018, 3.00am
The Southern Midlands Council wishes to congratulate the recipients of Council's Australia Day Awards.
Citizen of the Year Award - Mrs Karen Dudgeon
Young Citizen of the Year Award - Miss Rebekah Iles
Community Event of the Year - Oatlands Golf Club "B Grade Championships"
A Presentation Ceremony and morning tea will be held on Friday, 26th January 2018 at the Oatlands RSL Club, Albert Street, Oatlands at 10.00 am.
All members of the community are welcome to attend.
Anthony E Bisdee OAM
MAYOR
Posted Wednesday, 6 December 2017, 8.25pm
We provide music lessons over the internet for people living in rural areas in piano, violin, guitar and vocals. We have over 15 years of experience teaching this method successfully and have taught from beginners to diploma level.
Posted Tuesday, 10 October 2017, 10.00am
Littering in Levendale and Woodsdale Project are proud to announce that you can now drop of your used printer cartridges to the South East Trade Training Centre in Sorell this doesn't just count for the Levendale and Woodsdale communities, the other suburbs nearby can drop them off at the site,
Also at the South East Trade Training Centre, people can now recycle their old mobile phones into satchels and so all you do is bring in your phone and charger and place it in the satchel.
Satchels are available at the Trade Training Centre, 10 Forcett Street, Sorell.
Happy Recycling,
Joe Samuel Birch
Littering in Levendale and Woodsdale Project Co-Ordinator
Posted Tuesday, 20 June 2017, 1.00pm
The SMC has proudly sponsored the production of a high quality 16 page booklet depicting some of Henrietta's (Artist in Residence) Oatlands-based works. These booklets are for sale and available from the Kempton and Oatlands Council Offices for $10 each. All proceeds from the sale of these books will provide similar assistance to future artists who are undertaking our residency to ensure that their work remains accessible to the broader community.
Posted Wednesday, 24 May 2017, 5.00pm
The Hodgman Liberal Government will provide $2 million to the Southern Midlands Council to help build the new Oatlands Indoor Pool.
Posted Monday, 31 October 2016, 12.00am
Submitting a notice
The Council undertakes to make available through its Community Noticeboards a range of information which recognises the needs of a diverse community and which fosters community participation.
For Information in relation to placing items on the Community Notice Board, please contact Councils IT Officer Nick Wilson at the Oatlands Office.