News
Public Notices as advertised in the Mercury on Saturday, 5th September 2020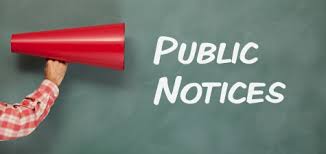 REQUEST FOR TENDER - CONTRACT 01/2020
2020 WASTE TRANSFER STATIONS – WASTE COLLECTION SERVICE
COLLECTION AND DISPOSAL OF GENERAL WASTE AND THE SUPPLY, INSTALLATION AND MAINTENANCE OF WASTE BINS

Tenders are invited from suitably qualified and experienced operators for the collection of general waste from Council's three (3) Waste Transfer Stations and for associated provision and maintenance of the waste bins at each station. Waste is to be collected and transported to an approved landfill facility. The Waste Transfer Stations are located at Oatlands, Dysart and Campania.
This is a five (5) year contract with possible one (1) year extension.
The tender document package is provided through Tenderlink Portal and can be accessed from our Tender Page. Please Click Here and you will be redirected to our Tender Page.
Any enquiries relating to access of documents or the tender process can be made directly to David Cundall, Manager Development and Environmental Services 03 6254 5050 dcundall@southermidlands.tas.gov.au
Specific enquiries relating to the details of the contract must be lodged through Tenderlink.
Tenders Close Friday, 2nd October 2020 at 4.00pm.
Tender documents must be electronically submitted through the Tenderlink Electronic Tendering Portal.
A Benson
ACTING GENERAL MANAGER
Posted Friday, 4 September 2020, 1.30pm
---