News
Public Notices as advertised in the Mercury on Thursday 18th June 2020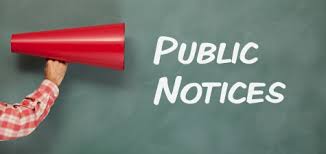 June Council Meeting
Notice is hereby given that the June Ordinary Meeting of Council will be held remotely via video conference in response to COVID-19 social gathering regulations.
The meeting will be held on Wednesday, 24th June 2020 at 10.00 a.m. Any person wishing to submit a Question on Notice can do so by addressing it to the General Manager via:-
Email: mail@southernmidlands.tas.gov.au
Mail: PO Box 21, Oatlands Tas 7120
Questions on Notice will be accepted up until 1.00 p.m. on Tuesday, 23rd June 2020. Questions received after this date/time will be taken without notice.
The meeting agenda will be available for public perusal on Council's website on Friday, 19th June 2020. A recording and minutes of the meeting will be made available after the meeting on Council's website www.southernmidlands.tas.gov.au
---
NOTICE OF INTENTION TO APPLY FOR A KENNEL LICENCE - DOG CONTROL ACT 2000
Notice is hereby given that the following applications have been received for a Kennel Licence:
Applicant: Leigh Stone
Premises: 11 Bentwick Street, Oatlands
Dogs: 3 x Miniature Fox Terriers, 1 x Jack Russell & 1 x Maltese Terrier
Any persons residing or owning land within 200 metres of the boundary of the above premises may, within 14 days after the publication of this notice, object in writing to the General Manager of the Southern Midlands Council PO Box 21 Oatlands, Tasmania 7120, or by electronic mail to mail@southernmidlands.tas.gov.au stating their reasons of objection to the grant of the licence.
T F KIRKWOOD
General Manager
Posted Wednesday, 17 June 2020, 1.30pm
---