News
Public Notices as advertised in the Mercury on Saturday 20th July 2019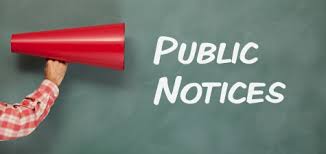 NOTICE OF APPLICATION FOR PERMIT
Notice is hereby given that applications have been made to Council under the Land Use Planning and Approvals Act 1993 for the use or development of land as follows:
Location: 12 Climie Street, Campania (Former School Farm)
Proposal: SA2016/14 – Subdivision (52 lots and public open space)
The relevant plans and documents are available for inspection at the Development & Environmental Services Office at 85 Main Street, Kempton or 71 High Street, Oatlands during normal office hours for a period of 14 days. Any person may make representations within this period by letter addressed to the General Manager, PO Box 21 Oatlands, Tasmania 7120, or by electronic mail to mail@southernmidlands.tas.gov.au
If the Council Offices are closed during normal office hours within the above period, the period for making representations is extended.
NOTICE OF INTENTION TO APPLY FOR A KENNEL LICENCE
DOG CONTROL ACT 2000
Notice is hereby given that the following application has been received for a kennel licence:
Premises: 11 Iden Road, Bagdad
Dogs: 2 Border Collie type dogs and 1 Kelpie cross type dog
Any persons residing or owning land within 200 metres of the boundary of the above premises may, within 14 days after the publication of this notice, object in writing to the General Manager of the Southern Midlands Council PO Box 21 Oatlands, Tasmania 7120, stating their reasons of objection to the grant of the licence.
T F Kirkwood
General Manager
Posted Friday, 19 July 2019, 9.00am
---