News
Public Notices as advertised in the Mercury on Saturday 8th June 2019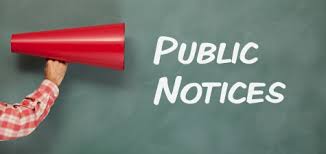 Temporary ROAD CLOSURE
Local Government Highways Act 1982 - Esplanade Oatlands
Notice is hereby given that, pursuant to Section 19 (1) (a) of the Local Government (Highways) Act 1982, the Esplanade, at Oatlands between Barrack Street and the entrance to Callington Park will be closed to all classes of traffic on various days during June and July 2019 between the hours of 8.00 am and 4.00 pm.
During this time, civil engineering works will be undertaken to underground the overhead power cables from Barrack Street to the toilet block on the Esplanade. The access from the Overnight Stop-Over location to the upper level of the Esplanade in the vicinity of Callington Park will also be closed off. However, access to the Stop-Over on the shores of Lake Dulverton will be still be open.
Drivers of all vehicles are requested to show due care and attention in following directions provided by officers on site, whilst observing the road signs that will be displayed.
Council apologises for any inconvenience that this may cause.
SPECIAL COMMITTEE OF COUNCIL - Annual General Meeting
Notice is hereby given that the Parattah Progress Association will be conducting its Annual General Meeting on Wednesday 26th June 2019 at the Parattah Recreation Ground commencing at 7.00 pm.
All residents of the Southern Midlands municipal area are invited to attend.
T F KIRKWOOD
General Manager
Posted Friday, 7 June 2019, 1.00pm
---