News
Public Notices as advertised in the Mercury on Saturday 1st December 2018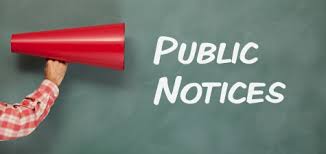 ACCESS TO CRAIGBOURNE DAM, COLEBROOK
(via the north-eastern section of Craigbourne Road - off Link Road, Colebrook).
Due to issues being experienced by the adjacent landowner(s), and in the interests of public safety, the Southern Midlands Council has been requested to consider a permanent closure of the Craigbourne Road extending from No 32 Craigbourne Road (i.e. approx. 320 metres from the junction with Link Road) extending through to the Dam.
Prior to making a decision in respect to this matter, Council seeks feedback from the broader community in terms of how any proposed closure may impact on users of the road.
Written submissions can be sent to the General Manager, 71 High Street, Oatlands or can be emailed to mail@southernmidlands.tas.gov.au. Written submissions will be received up until close of business on 17th December 2018.
T F KIRKWOOD
General Manager
Posted Thursday, 29 November 2018, 3.15pm
---