News
Public Notices as advertised in the Mercury on Wednesday 4th July 2018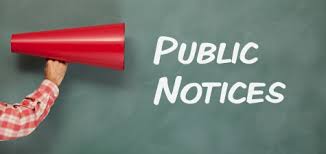 NOTICE OF APPLICATION FOR PERMIT
Notice is hereby given that applications have been made to Council under the Land Use Planning and Approvals Act 1993 for the use or development of land as follows:
Location: 80 Howletts Road, Campania
Proposal: DA2018/47 - Dwelling
Location: 272 Aldridge Road, Orielton
Proposal: DA2018/45 - Dwelling & Outbuilding
The relevant plans and documents are available for inspection at the Development & Environmental Services Office at 71 High Street, Oatlands or 85 Main Street, Kempton during normal office hours for a period of 14 days. Any person may make representations within this period by letter addressed to the General Manager, PO Box 21 Oatlands, Tasmania 7120, or by electronic mail to mail@southernmidlands.tas.gov.au
---
SPECIAL COMMITTEE OF COUNCIL - ANNUAL GENERAL MEETING
Notice is hereby given that the Parattah Progress Association will be conducting its Annual General Meeting on Tuesday, 24th July 2018 at the Parattah Recreation Ground commencing at 7.00 pm.
All residents of the Southern Midlands municipal area are invited to attend.
T F Kirkwood
General Manager
Posted Wednesday, 4 July 2018, 8.00am
---