Community Notice Board
Important Notice - Closure of Council / Community Facilities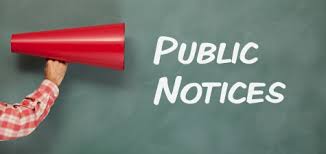 CLOSURE OF COUNCIL/COMMUNITY FACILITIES
Please note that the following facilities are closed with effect from midnight on 25th March 2020.
This directive from the Australian Government is focused on suspending non-essential gatherings to reduce the risk of spreading coronavirus (COVID-19) in our community.
The following are not permitted to operate:
Community Halls / Centres
Bagdad; Broadmarsh; Campania; Colebrook; Jericho; Kempton; Levendale; Mangalore; Oatlands; Parattah; Stonor; Tunbridge; Tunnack & Woodsdale; Midlands Memorial Community Centre
Recreation Grounds
Campania; Colebrook; Kempton; Levendale; Mangalore; Mt Pleasant; Oatlands; Parattah; Tunnack & Woodsdale
Historic Sites
Oatlands Gaol; Oatlands Court House; Commissariat; Heritage Hub
Gym
located upstairs at Oatlands Town Hall
Oatlands Community Shed
Oatlands Swimming Pool
These measures will be regularly reviewed by the Government. Please note that compliance with these closures is compulsory and non-compliance can result in fines and penalties.
Further information relating to the Tasmanian response to COVID-19 is available at www.coronavirus.tas.gov.au
T F Kirkwood
GENERAL MANAGER
Posted Thursday, 26 March 2020, 4.00pm
---
Submitting a notice
The Council undertakes to make available through its Community Noticeboards a range of information which recognises the needs of a diverse community and which fosters community participation.
For Information in relation to placing items on the Community Notice Board, please contact Councils IT Officer Nick Wilson at the Oatlands Office.