Community Notice Board
Public Notices as advertised in the Mercury on Friday 25th January 2019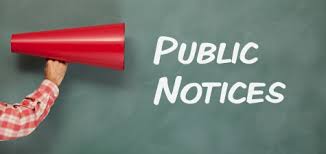 NOTICE OF APPLICATION FOR PERMIT
Notice is hereby given that applications have been made to Council under the Land Use Planning and Approvals Act 1993 for the use or development of land as follows:
Location: 23 Hall Lane, Campania
Proposal: DA2018/92 - Dwelling
Location: 9 Reeve Street, Campania
Proposal: SA2018/18 – Subdivision (4 lots)
The relevant plans and documents are available for inspection at the Development & Environmental Services Office at 85 Main Street, Kempton or 71 High Street, Oatlands during normal office hours for a period of 14 days. Any person may make representations within this period by letter addressed to the General Manager, PO Box 21 Oatlands, Tasmania 7120, or by electronic mail to mail@southernmidlands.tas.gov.au
If the Council Offices are closed during normal office hours within the above period, the period for making representations is extended.
T F KIRKWOOD
General Manager
Posted Wednesday, 23 January 2019, 1.00pm
---
Submitting a notice
The Council undertakes to make available through its Community Noticeboards a range of information which recognises the needs of a diverse community and which fosters community participation.
For Information in relation to placing items on the Community Notice Board, please contact Councils IT Officer Nick Wilson at the Oatlands Office.