News
Public Notices as advertised in the Mercury on Saturday 9th February 2019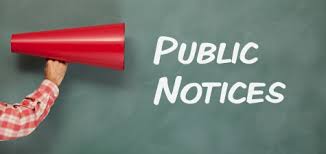 ROAD MAINTENANCE (INSITU STABILISATION) PROGRAM - Tender No 01/2019
Tenders are invited from suitably experienced contractors for stabilisation and pavement reconstruction works to various roads in the Municipal area (including two coat seal). Tenderers must have in place a quality management system that complies with the requirements of AS/NZS 1SO 9001:2000
ANNUAL SPRAY SEALING PROGRAM - Tender No 02/2019
Tenders are invited from suitably experienced contractors for Council's sealing works to various roads in the Municipal area.
The tender details and further information can be obtained by contacting Jack Lyall on 6254 5000 or email mail@southernmidlands.tas.gov.au
Tenders are to be submitted in a sealed envelope with the description and tender number clearly marked. Tenders should be received at the Council Office, 71 High Street, Oatlands by 3.00 p.m. on Friday, 22nd January 2019.
---
Temporary ROAD CLOSURE - Kempton
Local Government Highways Act 1982
Notice is hereby given that, pursuant to Section 19 (1) (a) of the Local Government (Highways) Act 1982, Main Street, Kempton between Sophia Street and Elizabeth Street, Kempton will be closed to all classes of traffic on Sunday 17th February 2019 between the hours of 9.00 am and 4.00 pm. During this time the Kempton Festival and associated activities will be conducted.
Drivers of all vehicles are requested to show due care and attention in following directions provided by officers on site, whilst observing the road signs that will be displayed.
Council apologises for any inconvenience that this may cause.
---
NOTICE OF INTENTION TO APPLY FOR A KENNEL LICENCE
DOG CONTROL ACT 2000

Applicant: Gaylene Townsend
Premises: 23B Blackbrush Road, Mangalore
Dogs: 15 Greyhounds
Any persons residing or owning land within 200 metres of the boundary of the above premises may, within 14 days after the publication of this notice, object in writing to the General Manager of the Southern Midlands Council PO Box 21 Oatlands, Tasmania 7120, stating their reasons of objection to the grant of the licence.
---
NOTICE OF APPLICATION FOR PERMIT
Notice is hereby given that applications have been made to Council under the Land Use Planning and Approvals Act 1993 for the use or development of land as follows:
Location: 102 High Street, Oatlands
Proposal: DA2019/01 Outbuilding (Heritage Place & Precinct)
Location: 7485 Midland Highway, Woodbury
Proposal: DA2019/03 Dwelling & 2 Machinery Sheds
Location: 23B Blackbrush Road, Mangalore
Proposal: DA2019/07 Kennel licence (15 Greyhounds)
Location: 63 Main Street, Kempton
Proposal: DA2019/11 Outbuildings (shed and container)
Location: 58 Main Street, Kempton
Proposal: DA2018/111 Outbuilding (Heritage Precinct)
The relevant plans and documents are available for inspection at the Development & Environmental Services Office at 85 Main Street, Kempton or 71 High Street, Oatlands during normal office hours for a period of 14 days. Any person may make representations within this period by letter addressed to the General Manager, PO Box 21 Oatlands, Tasmania 7120, or by electronic mail to mail@southernmidlands.tas.gov.au
If the Council Offices are closed during normal office hours within the above period, the period for making representations is extended.
T F KIRKWOOD
General Manager
Posted Friday, 8 February 2019, 4.00pm
---