News
Public Notice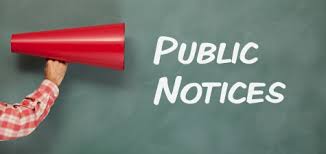 COMMUNITY CONSULTATION
Strategic Plan Review 2014 – 2023
The Local Government Act (1993) requires all Councils to have a Strategic Plan for their Municipal area. The Act also requires that in preparing a strategic plan, or updating an existing strategic plan, a Council is to consult with the Community in its municipal area and any authorities and bodies it considers appropriate.
Comment from the Community and other interested party is encouraged in the review of the Council Strategic Plan 2014 – 2023. This input will then to be considered by Council for the revised Strategic Plan. Public consultation sessions will be held in three locations commencing at 6.30pm on;
Tues 15 May 2018 - Oatlands Council Chambers
Wed 16 May 2018 - Campania Community Memorial Hall
Thurs 17 May 2018 - Bagdad Community Club
Further information and a copy of Council's current Strategic Plan is available by clicking here. Interested contributors should forward comments to mail@southernmidlands.tas.gov.au or PO Box 21 Oatlands Tasmania 7120 on or before Thursday 17 May 2018. For additional information in relation to this consultation process, please contact, Andrew Benson via email or telephone 62 593 011.
---
Notice is hereby given that applications have been made to Council under the Land Use Planning and Approvals Act 1993 for the use or development of land as follows:
Location: 1353 Midland Highway, Mangalore
Proposal: DA2018/36 - Dwelling addition (carport)
Location: 146 Storeys Road, Broadmarsh
Proposal: DA2018/32 - Farm shed
The relevant plans and documents are available for inspection at the Development & Environmental Services Office at 85 Main Street, Kempton and the Oatlands Council Chambers at 71 High Street, Oatlands during normal office hours for a period of 14 days. Any person may make representations within this period by letter addressed to the General Manager, PO Box 21 Oatlands, Tasmania 7120, or by electronic mail to mail@southernmidlands.tas.gov.au
If the Council Offices are closed during normal office hours within the above period, the period for making representations is extended.
---
NOTICE OF PLANNING SCHEME AMENDMENT
Notice is hereby given pursuant to s.38 of the Land Use Planning and Approvals Act 1993 and s.6 of the Land Use Planning and Approvals Act Regulations 1993 that Council has certified the following draft amendment in accordance with S.35 of the Act:
Location: 99 High Street, Oatlands (CT240022/1)
Proposal: RZ2018/1 Rezone part of the land at 99 High Street, Oatlands (CT240022/1) from General Residential Zone to General Business Zone; and
Amend the ordinance to include Resource processing (If for food and beverage production) as a discretionary use in Clause 21.2 Use Table of the General Business Zone.
A copy of the certified draft amendment and all relevant plans and documents are available for inspection at the Development & Environmental Services Office at 85 Main Street, Kempton during normal office hours for a period of 28 days. Any person may make representations within this period by letter addressed to the General Manager, PO Box 21 Oatlands, Tasmania 7120, or by electronic mail to mail@southernmidlands.tas.gov.au
Andrew Benson
Acting General Manager
Posted Friday, 4 May 2018, 6.00pm
---