News
Public Notice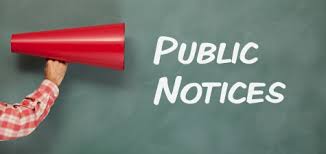 SALE OF PUBLIC LAND
In accordance with Section 178 of the Local Government Act 1993 (the Act), notice is hereby given of the Southern Midlands Council's intention to dispose of a portion of the following land:


88 Main Street, Kempton
(known as 'The Blue Place') - more particularly described in Certificate of Title Volume 32681 Folio 1.


A copy of the plan showing the proposed boundaries and identifying the relevant portion of the land can be viewed during business hours at the Council Chambers, 85 Main Street, Kempton or 71 High Street, Oatlands.
Objections to the proposed disposal may be made in writing to Council's General Manager, P O Box 21 Oatlands TAS 7120 and must be received before the close of business on Wednesday, 2nd August 2017.
If further information is required please phone Tim Kirkwood on (03) 6254 5000.
T F Kirkwood
General Manager
Posted Tuesday, 11 July 2017, 4.30pm
---